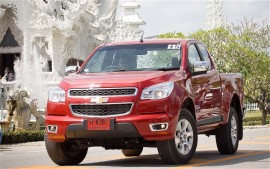 January 02, 2012
By Daniel Fernandez
Until recently, most trucks in Thailand were no frills, work-themed models designed and built to be affordable and tough enough to handle rugged off-road conditions. But with the rollout of the all-new, global editions of the 2012 Chevrolet Colorado and the Ford Ranger, that's starting to change as automakers look to gain more sales from the urban consumer.
Under the skin is an SUV-style control-arm suspension with coil springs and a stabilizer bar for the front. The rear has a semi-elliptical leaf spring live axle. On tarmac, the Colorado turns into corners very well, considering its tall 70-series tires, and it never feels lethargic when hustled along in city traffic. Its straight-line cruising stability is also exceptional, as we managed an easy 85 mph or so on the highway with negligible wind and tire roar. The fingertip feel through the power-assisted rack-and-pinion steering is smooth and well-damped, and responsive front-wheel disc brakes (with standard ABS with PBA) return the braking performance of a SUV.
This Chevy's looks are sufficiently rugged, with aerodynamic efficiency that accomplishes the neat trick of being robust and sporty at the same time, with SUV-like shoulders over the front wheel arches that complement the hammerhead headlamps. A set of foglamps is integrated into the front bumper, below which resides a metal skidplate to protect the powertrain from damage during tough off-road excursions.
For the Asian market, the Colorado comes with two airbags (LTZ version only). Safety features vary among models, and only the LTZ gets traction control, stability control, and panic brake assist, which increases braking force and triggers the ABS; hydraulic brake assist; cornering brake control (an extension of the ABS, TCS, and ESC systems to help the driver maintain control when the brakes are applied mid-corner); and hydraulic brake fade assist, which increases braking pressure when the system detects brake fade.
This new Colorado is sure to help GM's sales figures in this region. It comes with a bold, evergreen look that will not fade quickly, a decent-sized cabin, family-friendly interior features, and a powertrain that is frugal with diesel while producing impressive performance for the midsize pickup segment. In Asia, where this truck just went on sale, it's expected to be a clear sales winner, spanning the market from families to contractors.
© 2012 MotorTrend Magazine, Source Interlink Media
All rights reserved. WEB-050
Related posts