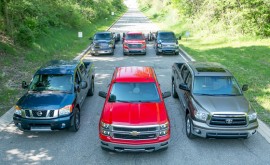 Posted by Mark Williams | June 17, 2013
By Mark Williams, Photography by Evan Sears
It had to be done. The half-ton pickup truck segment is going through too much growth to make you wait, even for a second. With so many pickups overhauled, we knew we had to bring all the half-ton players back together again to find out exactly where everyone stands. And since nobody tests as thoroughly or exhaustively as we do, it had to be us. And it had to be now.
Longtime PUTC readers know the last time we brought these trucks together it was for our 2011 $30,000 Shootout, where we placed few constraints on the manufacturers to create their best $30,000 pickup. The 2011 Ram 1500 won that contest but it wasn't without controversy. Not only did Ford send a regular cab among extended cabs, but due to a car-carrier fire with our test Toyota inside we never received the new Tundra for the competition.
For this test, we put a price limit on the manufacturers and we added a few requirements. All test trucks had to be four-wheel drive, have four full-size doors, be able to tow at least 8,500 pounds, and the total as-tested price had to be below $45,000 (including destination charges). What we got were six well-equipped half-ton pickups, which collectively offered almost 2,500 pounds-feet of torque and cost more than a quarter million dollars. But we knew we couldn't do this by ourselves.
In the past we've partnered with huge newspapers, enthusiast magazines, TV shows and others. This time we decided to work with automotive and technology experts at Popular Mechanics in order to judge this hugely important group — to both makers and buyers — of pickup trucks. Mike Austin and Ben Wojdyla are both longtime automotive specialists who know their way around a pickup and have seen quite a few models come and go.
This class has changed quite a bit over the last few years. Both Chevy and GMC are coming to market with their highly anticipated all-new Silverado and Sierra; Ford has introduced (and been incredibly successful with) a new lineup of engines since we last saw the F-150; and Ram introduced its latest half-ton incarnation only months ago and is enjoying huge sales gains as a result. The two oldest players in the segment are now the import pickups (although it's important to note that the trucks themselves are built here in the U.S.), with both the Toyota Tundra (with a new interior and exterior coming for 2014) and Nissan Titan (we hear 2015 will have big changes) the oldest designs in this class.
The 2013 Light-Duty Challenge competitors are:
2014 Chevrolet Silverado 1500 LT Z71 Crew Cab
2013 Ford F-150 XLT SuperCrew
2014 GMC Sierra 1500 SLE Z71 Crew Cab
2013 Nissan Titan PRO-4X Crew Cab
2013 Ram 1500 SLT Big Horn Crew Cab
2013 Toyota Tundra SR5 CrewMax
As for scoring, we broke down the test into separate categories. Our quantitative section has 13 categories, and each was scored this way: The top finisher got 100 points, and the rest were scored by how close they were to the winner. Those tests included highest calculated payload, top towing capacity, fuel economy, acceleration (with and without a payload, and with an 8,500-pound trailer), braking and more, with a total of 1,300 points at stake.
Our qualitative section was broken down into three parts. Each of our four judges (Mark Williams and Aaron Bragman from PickupTrucks.com, and Austin and Wojdyla from Popular Mechanics) determined each truck's score on a 1-to-10-point scale in six separate areas: interior quality, layout and features; exterior quality, fit and finish, and features.
Each judge also gave each truck a score from 1 to 100 based on how much value that truck offered for the money. The total number of points possible for the qualitative section was 640, or about one-third of the 1,940 total points available for the entire challenge. None of our categories were weighted, so depending on what priorities you have or believe are most important, you can recalculate the data we've collected to choose your own winner.
We conducted our testing in and around Ann Arbor, Mich., during May with temperatures ranging from the 70s to the high 80s each day under clear skies (we got lucky). Our acceleration and brake testing was done at the Chrysler Proving Grounds in Chelsea, while our hill climb was conducted at the same 7.2 percent hill-climb area at the General Motors Milford Proving Grounds track where we conducted our Heavy-Duty Shootout in 2010. Additionally, our autocross course for this test was held at the Milford Black Lake Vehicle Dynamics Area, where we conducted portions of our 2011 $30,000 Shootout.
It's worth noting that we hired a representative from RaceLogic to run and collect all our VBOX test data as an objective third party.
The Players
2014 Chevrolet Silverado 1500 LT Z71 Crew Cab
(2014 Chevy Silverado 1500 Monroney file)
In order to meet our $45,000 limit, Chevy started with a Silverado crew cab base priced at $40,525 (all base prices include destination), and then added the all-new EcoTec3 5.3-liter V-8 engine with 355 horsepower and 383 pounds-feet of torque (an $895 option), and the LT Z71 Package, which offers better 4×4 protection, bigger tires, hill descent control, additional badging and monotube Rancho shocks. Our Victory Red Silverado had the carryover 6L80 six-speed transmission and 3.42:1 rear axle gears, but it did get a trailer brake controller ($230), 6-inch side steps ($700) and a Bose speaker system ($500), which was connected to the 8-inch MyLink touch-screen. Our test truck also got the LT Plus Package ($785), which included a sliding rear window, adjustable pedals, rear park assist and a few other minor additions. Lastly, our Silverado had the All Star Edition Package ($1,080) that added conveniences like 10-way power adjustable driver's seat, a tilt/telescoping steering wheel, the trailering package, rearview camera and more. The final tally for our Victory Red Silverado 1500 built in Silao, Mexico, was $44,715.
2013 Ford F-150 XLT SuperCrew
(2013 Ford F-150 XLT Monroney file)
If you're a longtime PickupTrucks.com reader, you might remember Ford's controversial decision to send us a regular cab XLT pickup for our 2011 $30,000 Shootout. That decision didn't turn out so well, and we're guessing that's probably why Ford decided to take a different course this time, opting for a lower-level trim package that allowed for plenty of options. The base SuperCrew 4×4 with the short bed had a starting price of $39,325 but Ford did add the full XLT Package ($4,080), which included a power driver's seat, adjustable pedals, select-shift transmission, six months of satellite radio, backup sensors and a rearview camera. Add to that the EcoBoost engine and six-speed transmission ($1,095), 3.73:1 gears ($100), an Off-Road Package with locking differential and extra skid plating ($770), the Max Trailer Tow Package with the 36-gallon fuel tank and telescoping mirrors ($335), a tailgate step ($375) and a spray-in bedliner ($475). Top that off with a $1,750 302A Group D discount and our Blue Jeans Metallic F-150 built in Dearborn, Mich., finished at $44,805.
2014 GMC Sierra 1500 SLE Z71 Crew Cab
(2014 GMC Sierra 1500 Monroney file)
Our all-new GMC Sierra 1500 came to us with four-wheel drive and four full-size doors in the new crew cab configuration. This is an entirely new crew cab for GM. The setup has slightly smaller front doors (meaning the B-pillar was moved forward a few inches) in order to make the rear doors larger, allowing rear-seat passengers several more inches of foot and knee room. Our base Sierra 1500 SLE came in at $40,650 but offered a few options. The addition of the SLE Value Package ($1,720) gave our truck the Trailering Equipment Package, power adjustable driver's seat, tilt/telescoping steering wheel, remote start, dual-zone climate controls and more. We also upgraded from the base 4.3-liter V-6 to the 5.3-liter V-8 ($895) and the Z71 Off Road Suspension Package ($775), which gave us aluminum wheels, hill descent control, monotube Rancho shocks and a high-capacity air cleaner. We added a trailer brake controller for $230, and the final option was better all-terrain tires for an additional $200. Tallied with our $750 SLE Value Package discount, our Fire Red Sierra 1500 made in Silao, Mexico, finished at $43,720.
2013 Nissan Titan Pro-4X Crew Cab
(2013 Nissan Titan Monroney file)
Our Titan already came well-equipped with its base-trim packaging and therefore offered relatively few options. Although the aging engine is down on comparative power and EPA fuel-economy numbers, the $45,000 threshold meant that there was plenty of room to add both the Pro-4X Utility Package ($1,500) and the Pro-4X Luxury Package ($2,630). This meant our Titan included items such as a premium Rockford Fosgate sound system, power pedals, a spray-in bedliner and Utili-track cargo system with adjustable tie-downs, and heated, extendable tow mirrors. In addition, the Luxury Package gave us the center-stack color navigation screen and heated, leather-wrapped and power-controlled front seats. The base-price Nissan Titan without the Pro-4X add-ons lists at $40,235, but with both the option packages and the $150 Pro-4X floor mats, our Graphite Blue test unit made in Canton, Miss., came in at $44,515.
2013 Ram 1500 SLT Big Horn Crew Cab
Our Hemi- and eight-speed-equipped ($500) new Ram 1500 came to us with the second-lowest base price of the group while still meeting our requirements. This half-ton SLT crew cab lists for $38,295 and allowed Ram to include probably the longest list of options of any competitor. The Big Horn trim ($1,845) gave us 20-inch wheels, the premium 40/20/40 front bench seat, the 7-inch multiscreen gauge display, rear 60/40 split seats, under-seat fold-flat storage compartments and power seats with lumbar support. Additionally, the Luxury Group ($560) gave our Ram auto-dimming exterior mirrors, glove box and under-hood lamps, power heated mirrors and overhead console storage. Then there was the remote start and alarm ($350). Other add-ons Ram Truck included were the 3.55:1 gearing ($50), power heated towing mirrors ($100), HD Radio and an 8.4-inch touch-screen display with premium navigation and Uconnect access ($1,005), as well as four-corner air suspension ($1,595), backup camera ($200) and integrated brake controller ($230). Our Maximum Steel Metallic test unit, built in Warren, Mich., had a final price of $44,730.
2013 Toyota Tundra SR5 CrewMax
(2013 Toyota Tundra Monroney file)
Our Tundra came to us pretty well-equipped, but did offer the lowest base ($35,825) and overall price of any of the competitors. Although not relevant to how and why we test, it's worth noting that where other manufacturers built their test units to meet our specifications, Toyota chose to pull its test unit from the existing media fleet. As well-equipped as it was, this was the only vehicle available that could meet our criteria. The base CrewMax gave us the largest cab of the group and quite a few options, which included the high-level radio and CD player with Bluetooth ($510), auto-dimming rearview mirror with the integrated backup camera ($475), 18-inch wheels and tires ($910), a tilting and sliding moonroof ($810), a drop-in, under-the-rail bedliner ($345), carpet floor mats ($195) and remote engine start ($499). Add to that the SR5 Package ($970), which included front power adjustable seats, upgraded fabrics, fog lamps and a center console shifter. Finally, our test unit came with the Max Tow Package ($660), which gave us better engine cooling, a bigger battery and alternator, 4.30:1 gears, a Tow/Haul button, and all the hitch and wiring necessary for trailering. Altogether, our Pyrite Mica Tundra test unit, built in San Antonio, Texas, listed for $41,199.
For a more comprehensive "What You Get" comparison chart, click here.
Now let's see how they performed.
Posted by Mark Williams | June 17, 2013
One of the perks of partnering with a publication like Popular Mechanics is having access to quality automotive experts who know their way around anything with an engine. It worked out pretty well for us that we had two truck critics from PM and two from PUTC during the qualitative portion of our judging. And when you consider how much driving experience this group has, you'd be hard-pressed to find as much expertise or depth of knowledge about pickup trucks anywhere in the automotive universe. The judges were:
Mark Williams, editor, PickupTrucks.com: Williams has been around the auto industry for 25 years writing for and editing various four-wheel-drive, pickup truck and car enthusiast magazines as well as working for quite a few popular and (automotively) important websites.
Aaron Bragman, Detroit bureau chief, Cars.com/PickupTrucks.com: In his previous job, Bragman spent seven years as an auto industry analyst at IHS, where he covered everything from new-model releases to corporate strategy to sales trends. He also spent a good amount of time in various capacities with Bosch Braking and Nissan before that.
Mike Austin, senior editor, automotive, Popular Mechanics: With almost two years in his current position, Austin has worked for stalwart publications such as Car and Driver, Automobile and MPH magazines during the last decade. He also is a LeMons racer and owns a Buick Roadmaster with a Class III trailer hitch.
Ben Wojdyla, associate editor, automotive, Popular Mechanics: Wojdyla started his automotive career on the original equipment side, working for Ford, Visteon and DaimlerChrysler as a manufacturing engineer, and then moved to Jalopnik.com as its Detroit editor for several years until he jumped to PM two years ago.
As noted, we've broken our test into separate sections in order to give you both quantitative and qualitative looks at each pickup; the numbers side includes 13 scored events and accounts for about two-thirds of total points, and the impression side of our test was judged by our four experts and accounts for the remaining third of the score.
How the Qualitative Scoring Works
At the outset, each judge was given a scoring booklet where each was asked to make notes and score each pickup in the context of its competitors on a 1-10 scale (10 being best) in two separate areas. The first was interior scoring, which included quality, layout and features. The second was exterior scoring, which included quality, fit and finish, and features.
The final scored section allowed each judge to determine which pickup, in his opinion, provided the best overall value for its sub-$45,000 as-tested price. This score, judged on a 1-100 scale, shines the light on exactly how much truck you'll get for your money, or, if you will, bang for your buck. These three categories (interior, exterior and overall value) make up the judges' portion of our 2013 Light-Duty Challenge.
What We Think
2013 Nissan Titan Pro-4X | 459.5 points
There's no question the Nissan in our Challenge is at a real disadvantage in both interior and exterior judging because it is the oldest truck in the segment, with relatively few changes from its 2004-model-year introduction. With that said, most of our judges described and characterized the Titan as one of the more athletic trucks in the competition with its aggressive all-terrain tires, nothing-fancy interior theme and Pro-4X badging (inside and out). Our judges noted that the interior feels tighter than the other trucks in some ways with its wide-mouth center console and extra-firm seats and headrests. The gauge layout and center stack were also places where the Titan lost points, finishing fifth in total interior scoring. Our judges thought the look of the truck, although certainly unique, is in desperate need of updating. We note here that each of our judges still appreciated the Titan for being the first in the segment with a factory-offered spray-in bedliner, very cool adjustable cargo tie-down system and lockable rear-quarter-panel bin. Unfortunately, the Titan could not finish better than fifth in exterior scoring or sixth in value.
2013 Toyota Tundra SR5 | 461.5 points
Like the Titan, the Tundra is ready for its redesign and from what we saw at the 2013 Chicago Auto Show, the new interior and exterior for the 2014 Tundra looks to be a huge improvement. Unfortunately, we were not able to get that model for this test. As it was, Toyota was forced to pull a 2013 Tundra SR5 from its media fleet for our test. Our judges identified the standout feature of the Tundra CrewMax as the legroom that the sliding rear seat offers in almost any position. Unfortunately, the seat doesn't seem to do much else, as the seatbacks only flop down on top of the seat cushions, which doesn't provide much usable storage room in the cab. Likewise, our judges criticized the barrel gauge design and said the exterior and bed look were too bloated. As to the exterior design, our judges didn't like the bloated design and the bed that lacked any unique features. The Tundra scored in last place with our judges regarding the interior quality, layout and features, as well as last place in exterior scoring. Only in overall value did it just slip ahead of the Titan for a fifth-place finish.
2013 Ford F-150 XLT | 505 points
Much of the Ford's strength came from what our judges felt when they were behind the wheel, towing. The EcoBoost engine was a clear standout component for each driver. However, the Ford fell short in our interior categories because of the material choices and surface textures of the XLT trim; it seemed dated and well below most of the competition. Of course, Ford offers many other higher-trim packages (in fact, more than any other truck maker), but that's not what we got for this test and that's not what we judged. Some testers also had trouble with the Ford Sync voice commands and the ease-of-operation when connecting a smartphone or iPod. The exterior look and features were a mixed bag for our judges as well, as the quality and fit and finish of the spray-in bedliner and tailgate step did not impress everyone. At the end of our qualitative scoring, the F-150 scored a fourth-place finish in the interior and exterior judging, and a third-place finish in overall value, finishing just a nose behind the Chevy Silverado.
2014 Chevy Silverado 1500 LT Z71 | 524.75 points
To put it simply, each judge who got into the new Silverado was impressed. Comments about the vastly improved ride quality and remade 5.3-liter V-8 engine showed up in each notebook. As for the vastly improved and completely redesigned interior, the Chevy got solid marks for overall refinement and high praise for the simplified center-stack layout. High praise also went to the new MyLink system and easy-to-understand infotainment touch-screen; however, two judges noted that the steering wheel still doesn't seem lined up correctly with the center of the driver's seat — an issue some truck aficionados find uncomfortable. On the outside, only one judge seemed to appreciate that Chevy has chosen a relatively conservative exterior design strategy, doubling down on the squared-off fender wells. After totaling our judges' scores, the Silverado finished in the middle of the pack with a third-place finish in interior scoring and third place for exterior as well. For overall value, the Chevy finished fourth.
2014 GMC Sierra 1500 SLE Z71 | 544.25 points
If there was a truck that seemed to offer the proper blend of upscale refinement and functionality with our testers, this was it. Each noted the softer-touch materials, a slightly higher-quality look and feel, and the more pronounced use of accent stitching that seemed to go a long way in giving the interior a more premium feel. Outside, the detail differences between the Sierra and Silverado siblings are more obvious than most judges had anticipated. The wider, taller grille and chrome surround garnered the most comments, with the hood bulges and elegant headlight setup getting the highest praise. We assume it's no small feat to create enough differences between two identically platformed pickups (during our Michigan drives, the trucks had a stealth quality to them and did not get noticed by many other drivers), but our judges seemed to appreciate the efforts. Interior scoring had the 2014 Sierra finishing second, while it won the exterior section. And if it weren't for the Ram 1500 winning the overall value category (the Sierra finished second there too), the Sierra would have been even closer to winning the qualitative section.
2013 Ram 1500 SLT Big Horn | 559.5 points
As the only pickup in this test with an air-bag suspension, you can bet many of our mileage drive comments centered on the smooth and comfortable ride of the Ram 1500. And with the complete overhaul of the 2013 Ram 1500 gauge cluster, center console, center-stack Uconnect setup (complete with the largest touch-screen navigation screen around), not to mention the multilayered, multiscreen info screen between the speedometer and tachometer, you can bet our judges gave the new Ram high marks for interior features and layout. In fact, the Ram 1500 won the interior scoring handily, and was just beat by the Sierra 1500 in exterior scoring by two points. In the important overall value category, though, the Ram received a first- or second-place designation from each judge, due in large part to the interior features, the power and control of the Hemi and eight-speed ZF transmission, and the comfort of the air suspension. All totaled, the Ram was the top vote getter with our experts, giving it 15 points more than second place and 34 points more than third.
The qualitative section of our scoring is judged from a possible 640 points, with each of four judges responsible for 160 points in seven areas (interior quality, layout and features; exterior quality, fit and finish, and features; and overall value).
Interior scoring: Chevy in third, GMC in second and Ram 1500 on top by less than 10 points.
Exterior scoring: Chevy in third, Ram in second and GMC in first.
Overall value: Ford in third, GMC in second and Ram on top.
Added together (interior + exterior + overall value), the top two favorites turned out to be the Ram and the GMC, with Ram winning by just 15 points. Not bad when you consider the point spread between first and last place was 100 points. The 2014 Chevy Silverado 1500 took a solid third-place spot, while the Ford F-150 was behind Chevy by almost 20 points for fourth. And separated by just two points, the Toyota Tundra (fifth) and Nissan Titan (sixth) filled out the final two slots.
(To see how each judge scored each competitive vehicle in all the categories, see the appropriate scorecard for each pickup in the Results story.)
Posted by Mark Williams | June 17, 2013
Whether it's surging from a dead stop, merging into traffic towing a 4-ton horse carrier, cresting a highway hill or simply enjoying the power of your pickup, acceleration is key to performance for truck drivers and owners.
We conducted our acceleration testing at the Chrysler Proving Grounds in Chelsea, Mich., on the vehicle dynamics blacktop area there. We tested each truck's zero-to-60 ability on a smooth, flat surface on a sunny spring day in May. Temperatures were about 75 degrees with a negligible breeze.
Each truck was run with the windows up, air conditioning off, in two-wheel drive and in Drive when empty. We turned traction control off during each run, modulating the brake and throttle at launch to incur the least amount of wheel spin with the maximum amount of acceleration at launch.
We made at least three runs with each pickup in three modes:
Unloaded
With 1,200 pounds of rubber mats strapped in the bed
With an 8,500-pound trailer hitched to the rear bumper (with a weight-distributing hitch)
When the test was conducted with a load (payload or trailer), the runs were made with Tow/Haul engaged and duplicating all other criteria. Tow/Haul was not engaged when the trucks were empty.
Each run had two adult males inside weighing about 185 pounds each. One was the test driver whose only job was to launch and drive as consistently as possible during each run; the other was the RaceLogic representative who diligently recorded our data and was there to problem-solve any issues that might come up. In all, we made fewer than 60 runs but it was still a long day (we also did brake testing the same day at the same place, but that's another story, literally. See our Brake Testing story).
During our empty runs, the three strongest players were the Ford, Toyota and Ram, with the Ram 1500 getting more traction off the line than any other truck. The Ram got to 60 mph in 7.0 seconds and did so in 362 feet. The F-150 got to 60 in 7.1 seconds in a slightly shorter 360 feet. Finally, the Tundra performed well, getting to 60 in 7.2 seconds, also in 362 feet.
We have to thank the crew at Chrysler for helping us load and unload the different trucks with dozens of thick rubber mats in order to provide a heavy, low load for our zero-to-60 runs with 1,200 pounds of payload. Since pulling a trailer is different than running empty or carrying a heavy cargo load, we thought it important to get acceleration numbers for each truck from each scenario.
It may come as a surprise to some that the Ram didn't have the fastest time with a 1,200-pound payload. In fact, this was the only acceleration test where the Ram didn't perform flawlessly. The Ford's twin-turbo V-6 got to 60 mph in just 8.3 seconds, the Toyota in 8.4 seconds and the GMC in 8.7 seconds.
Lastly, our zero-to-60 runs with the 8,500-pound trailer (supplied by GM's engineering team) gave us some interesting results. We should note first that the trailer was right at the Ram 1500's maximum trailer weight outer limits. However, 8,500 pounds was well below the maximum trailer weight capacity of the Ford F-150 (which had the optional Max Tow Package; Ram does not make one for the 1500). With that said, the two trucks tied to in the race to 60 mph, each recording a time of 17.0 seconds on their best runs; however, because the Ford did it in fewer feet, we gave the tie to the runner, or Ford in this case, awarding the F-150 the 100 points for this zero-to-60-with-trailer test.
Posted by Mark Williams | June 17, 2013
When you're carrying a payload and need to come to a sudden stop on the highway, you want to be damn sure your brakes are going to hold up. That kind of security is an absolute must for truck owners.
We conducted the braking portion of our test at the same wide-open blacktop facility where we performed our acceleration runs: the Chrysler Proving Grounds in Chelsea, Mich.
The conditions for this test were perfect, with temperatures around 75 degrees and a slight breeze. We drove each truck consistently, without any modifications to the controls or switching, and simply ran each truck up to 60 mph, getting to its top gear and then we dynamited the brakes.
We specifically used a section of proving grounds where the tarmac was very smooth with an even surface; it was different from where we did our acceleration runs. Of course, not all our stops were done on exactly the same portion of pavement but they were done on the same stretch, within 50 yards or so of one another.
We used a combination of readouts to know when we were at exactly 60 mph, which included a digital readout from our RaceLogic VBOX as well as the truck speedometer (some of which were slightly optimistic while others were pessimistic). We typically needed two or three tries to get a spot-on speed reading.
The truck with the shortest stopping distances in the shortest amount of time when empty (albeit with two grown men inside: one test driver, one data collector) was the Ford F-150, stopping in just 132 feet in 2.9 seconds. Right behind the Ford was the 2014 Chevy Silverado and GMC Sierra, stopping in 3.0 seconds in 138 and 137 feet, respectively.
Things got more interesting when we duplicated the brake test with 1,200 pounds of 1-inch-thick rubber mats loaded in the bed. The winner this time was the GMC Sierra, stopping in the same amount of time (3.0 seconds) but in just 6 feet more. In fact, only one loaded pickup stopped in less time from 60 mph than it did empty. That was the Nissan Titan, which stopped just 3 feet farther along with all that weight over the rear end. Additionally, three trucks effectively tied for second place during our loaded braking test with the same statistical score.
Posted by Mark Williams | June 17, 2013
Some of the most significant improvements for all pickup trucks have come in fuel economy during the past several years, starting with Ford's EcoBoost engine. Now others are making serious noise about their accomplishments.
Our fuel economy drive loops were designed to give us a chance to see how well this current crop of competitors could do in head-to-head driving comparisons. And we mean head-to-head. All vehicles were driven with air conditioning on, in Drive or "D," and following the lead truck as a caravan. The only difference in our driving when trailering would be that each towing pickup engaged the Tow/Haul settings. Additionally, to calibrate the test for any differences in driver weight or driving styles, all drivers rotated into each truck at each of the six stops on the loop.
The easiest way we've found to accomplish this type of "variable-less" empty and trailered mileage driving is to have half the test trucks (three) run with the trailers on the first 180-mile loop, then swap the trailers once we got back to our start/finish loop (a Shell gas station in Ann Arbor, Mich.), and then we did the same loop with the same drivers. This made for a long day, but it also allowed our judges to get real-world feedback from each truck in real-world towing and empty cruising in around-town and highway conditions.
At the beginning of each loop we topped off each of the gas tanks at the same pump, using the same "two-click" method.
Our full drive loop had us visiting a slew of Michigan towns, starting in Ann Arbor, then heading into Garden City, Auburn Hills, Flint, Perry and Stockbridge, then back to Ann Arbor. We should note that more than two-thirds of our driving loop was done on two-lane highways and freeways, where our average speed was right around 50 mph, with the rest of the mileage through small towns and on major city streets (with plenty of stoplights). No, this wasn't an attempt to duplicate the EPA test routes, so you shouldn't be surprised to see numbers that are quite different from the government ratings. And that's exactly what happened.
The winner of our "empty" drive loop, with an observed fuel economy of 23.1 mpg, was the GMC Sierra 1500. The F-150 was in second place with 22.3 and the Ram 1500 was not far behind with 21.7. The Silverado recorded 21.4, the Toyota 18.2 and the oldest engine of the segment, the Nissan Titan, a 16.6.
When trailering at or near maximum towing capacity, the results were a little different. Winning the trailering section of our fuel economy testing was the Chevy Silverado with an impressive 12.6 mpg, and its sibling Sierra was right behind with 12.5. In third and fourth place were the Tundra with 11.8 and the Titan with 11.4. Maybe the biggest surprise here was finding out the fastest trucks in our performance testing were the worst in our trailering mileage drive. At the bottom of the group was the Ram with a dismal 10.4 while towing; the F-150 wasn't much better at 10.9.
Posted by Mark Williams | June 17, 2013
Longtime readers of PickupTrucks.com will recognize this 7.2 percent hill-climb contest from past heavy-duty shootouts and preproduction engineering drives.
This is the same section of road that GM engineers have been using at the Milford Proving Grounds for decades, testing trucks with and without heavy trailers in tow. Thankfully, the truck maker allowed us to use the same section of grade for testing our herd of half-tons.
The procedures were pretty simple. We chose a designated spot near the start of the grade and used that spot to start each truck during back-to-back runs. Each truck was tested on the hill climb empty, running for the best time to 60 mph. With that accomplished, each truck was hooked up to our 8,500-pound test trailer and run over the same hill, this time measuring their times to 40 mph (none of the pickups hit 60 before the quarter-mile mark).
Each truck was run the same way, with the windows rolled up, air conditioning off, in two-wheel drive, transmission in Drive and traction control off. Our empty runs were done out of Tow/Haul mode, while trailered runs were done with Tow/Haul engaged.
At the start with each of the trucks, we power braked the engine (meaning we kept our foot on the brake briefly while revving the engine to around 2,000 rpm), then we released the brake quickly, getting to wide-open-throttle as quickly as possible. Some trucks did better empty, while others performed more confidently with a load on the back bumper.
From the outset, we knew the Ram would be the one to watch. The Hemi V-8 is rated with the highest horsepower of our group at 395 at 5,600 rpm, and when combined with the deep 1st gear of an eight-speed transmission (4.71:1) and a compliant air suspension, we had a feeling it would be the one to beat. That's exactly what happened.
The Ram 1500 tore up the 7.2 percent grade, taking only 8.2 seconds to reach 60 mph empty, leaving everyone except for the Ford F-150 (at 8.5 seconds) in the dust. Some of the trucks, like the Titan, struggled to keep themselves from spinning the tires before the nannies broke in (even with the traction control button in the "off" position), while the two GM trucks seemed to have a much smarter traction control setup system at work, but they still seemed a bit sluggish when responding to throttle input.
When trailering, the Ram 1500's rear end did a great job of getting the 20-inch Goodyear Wrangler SR/A tires (the exact same tires on the Ford, Chevy and GMC) to hook up and pull the 8,500-pound trailer to 40 mph in 11.3 seconds. The F-150's EcoBoost twin turbo came in not far behind, with the Chevy, Toyota and Nissan following closely.
Oddly, the GMC struggled to get traction with a trailer, requiring us to more softly ramp up the throttle input to prevent the tires from breaking loose (which seemed to happen pretty easily). It's possible there may have been an issue with the StabiliTrak traction control software during those runs, but we did our best to reset both after each run and we tried several variations, running the truck more times than any other.
In the end, the Ram won both hill-climb tests, collecting 200 points for both wins.
Posted by Mark Williams | June 17, 2013
Of all the tests that we perform in a Challenge, the autocross could be the one that truck shoppers might like to do most on their own.
Our small autocross course was set up at GM's Black Lake Vehicle Dynamics Area on the Milford Proving Grounds. The closed-loop course was less than a minute in length when driven aggressively and included several good cornering opportunities, a slalom section, a good-sized decreasing radius corner and several chicane obstacles.
Our "hot shoe" for the drive was Ben Wojdyla, associate automotive editor for Popular Mechanics. Wojdyla is not a professional racer, but he knows how to push and exercise a vehicle. Even more important, he knows how to let a vehicle's capabilities determine how fast and controlled it can navigate sections of a course without pummeling the test truck to a pulp.
All the trucks were run with air conditioning off, in two-wheel drive (although the Ford and GM trucks had all-wheel-drive capabilities), traction control on and with two adult males in the truck (one driver and one data recorder, as in all the other performance tests). Once all the trucks were tested empty, we tested them all again on the same course but with 1,000 pounds of sandbags strapped safely in the bed.
The winner of the empty autocross was the Ram 1500, with a time of 46.0 seconds. Our test driver made note of how well the suspension was able to dive and hold the corners and keep the rear end controlled better than any other in the test, especially in tight hard-right, hard-left transitions.
Right behind the Ram was the GMC Sierra with a time of 46.3 seconds. It felt very controlled through the course, the driver noted, doing a great job of delivering a flat road feel while keeping tire grip through the tightest corners. The Ford, Nissan and Toyota all had times in the 49-second range; each seemed to do more lumbering than nimble darting, which makes sense since those trucks were three of the four heaviest trucks of our test (F-150 5,820 pounds, Titan 5,520 pounds and Tundra 5,800 pounds).
With the 1,000 pounds of strapped-down sandbags in the bed, we ran the trucks through the course again. This time around, each of the competitors was typically around 1.5 seconds slower, with the exception of the Nissan Titan, which was actually faster by 0.3 seconds. The only way our tester could explain it was by describing how frustrating each of his Titan runs were with its aggressive traction control. The faster time during the loaded run is probably explained by the greater traction capability of the rear tires coming out of corners.
In first place after the loaded runs, the Ram posted a loaded best time of 47.1 seconds. This time, it was Ford in second place with a time of 48.5, and the Chevy came in third again with a time of 48.8.
Posted by Mark Williams | June 17, 2013
Eleven of our 13 quantitative scoring categories are determined by objectively testing each pickup truck for time or distance (acceleration, braking, autocross), but two of our scored categories are simple math. We award winners 100 points and the other competitors whatever percentage below their calculations, whatever that might be. That means that if our winning truck got 30 mpg and the runner-up got 27 mpg, then the winner would get 100 points, and the runner-up would get 90 points (since 27 is 90 percent of 30).
In order to reward pickup trucks that offer the highest capabilities that are most likely to be of interest to buyers (or enthusiasts) of this type of truck, we created an as-tested maximum payload and maximum towing capacity category. To calculate each truck's numbers, we began by weighing each truck at the same CAT Scale outside Ann Arbor, Mich., with a full tank of fuel and nothing else inside.
The Silverado weighed 5,480 pounds; the F-150, 5,820; the Sierra, 5,420; the Titan, 5,520; the Ram, 5,600; and the Tundra, 5,800.
To calculate the maximum payload, we subtracted the truck's weight from the gross vehicle weight rating number on the door sticker, then subtracted 200 more pounds for a normal-sized driver. The Ford F-150 won this category with a calculated capacity of 1,630 pounds. The Ford was the heaviest truck in the test, with the highest GVWR by more than 400 pounds over the next closest player. The only other truck equipped with a max towing package (which often does not impact GVWR) was the Toyota Tundra, which had a calculated payload capacity of 1,200 pounds, finishing just ahead of the Ram. (We should note that the Chevy and GMC pickups did not have a max tow package, because it won't be available for a few months.) The Ram had just 1,000 pounds of calculated payload capacity.
As for maximum towing capacity, we calculated that number in much the same way. We subtracted the actual weight of each pickup from the manufacturer's gross combined weight rating, then subtracted 200 pounds for a driver.
Again, the Ford F-150 won this category handily, offering more than 11,000 pounds of calculated towing capacity with its EcoBoost engine and Max Tow Package. In second place was the Tundra with 10,000 pounds, and the GMC Sierra and Nissan Titan essentially tying for third. We should note that although the Ram 1500 only offered a calculated maximum towing capacity of 8,350 pounds, it did all our towing tests and fuel economy loops with the 8,500-pound trailer with confidence and control. Maybe that's another good reason to hope that all these truck makers adopt the Society of Automotive Engineers' towing standard J2807 very soon.
Posted by Mark Williams | June 17, 2013
OK, we've been through the testing, we've put on the miles, and now we're just about ready to render our verdict.
We decided to judge these trucks both on their physical capabilities as well as other more subjective characteristics. Thankfully, we were able to get experts from RaceLogic and Popular Mechanics to help out. The end result is mountains of data and impressions collected, and one overall winner for our 2013 Light-Duty Challenge.
Scoring a test like this can be complicated. In the past, we used a series of formulas that weighted each category according to how important (or not) we thought those categories were. Not so this time. This year each winner of each quantitative test was awarded 100 points and all other competitors received whatever fraction of points their own score deserved when compared to the winning time or distance.
For example, if the winning truck accelerated a prescribed distance in 10 seconds and the second-place finisher accelerated in 11 seconds, the former would be awarded 100 points and the latter 91 (10 divided by 11= 90.9). Likewise, in stopping distances, if the winner stopped in 135 feet (100 points) and the fourth-place finisher stopped in 153 feet, the fourth-place truck got 88 points. (You can do the math.)
The only place where fractions were allowed into total scoring was in the qualitative section, where judges could award points in any way they saw fit. As you can see from our judges' impressions, each expert had his own biases and preferences, and each reflected those opinions in his scores. The fact that this particular section can be considered "fuzzy" motivated us to designate this section to be worth about half as much as the 13 objective categories.
Before we get to the final finishing order, we'd like to thank our third-party experts at RaceLogic (thanks Joe Lachovsky) who were responsible for collecting our test data and providing tons of helpful testing advice, as well as both original equipment manufacturer support teams that helped us use the Chrysler and GM Milford Proving Grounds to their fullest (Ford, it's your turn next time). And thanks also to our compatriots at Popular Mechanics: Your insights and driving skills were hugely appreciated. We've been told readers can look for PM's own half-ton challenge in the September issue, going on sale near the beginning of August.
For all our quantitative test and calculated data in one head-to-head chart, click here.
Sixth Place
2013 Nissan Titan Pro-4X | 1,605.5 points
Even though the Titan did not win a single category in our tests, the news is not all bad. The foundation of this truck is solid, and our judges seemed to have a soft spot for the Titan as the sportiest player in the segment. Sure, the engine and interior are the weakest links but there are some good qualities that Nissan can build off of when the next-generation Titan debuts, hopefully by 2015. The Titan was the last-place finisher in our quantitative testing, but our judges did not believe it deserved last place in interior and exterior scoring. At the end of the testing, the Titan was simply outgunned with more under-hood technology and firepower from the other trucks; it also is significantly in need of a new interior design. On a positive note, from what we're hearing, the next-gen Titan will offer many more powertrain options and cab configurations, something that all the players in this arena must have.
Fifth Place
2013 Toyota Tundra SR5 | 1,624.5 points
The Tundra did not win a single one of our testing categories either, but it did perform well during our most extreme tow tests, thanks in large part to a relatively solid Max Tow Package that included 4.30:1 axle gears but no integrated brake controller (just like the Nissan). Unfortunately, the biggest weaknesses centered on the outdated gauge cluster and split center stack, as well as the underperforming tire choice. The 2014 Toyota Tundra is set to debut later this year with a new interior and exterior design, and since our judges scored the current Tundra in last place for our contest in both those categories, we'd say that's good timing. Our judges all liked the powerful sound that the Tundra's engine made when hauling and towing, but it somehow seems appropriate given the quality of the all-new or recently updated competitive powertrains that the Tundra finished fifth in our quantitative tests, fifth in our qualitative categories and fifth in total points. As a small piece of advice, we'd suggest giving some serious thought to updating and modifying this truck's powertrain and chassis choices soon.
Fourth Place
2014 Chevrolet Silverado 1500 LT Z71 | 1,715.75 points
The only contest the new Chevy Silverado 1500 won was the fuel economy loop with the trailers in tow, scoring just a hair better than its GMC cousin. Beyond that one category, the Silverado was a solid middle-of-the-pack player, often getting close to joining the leaders, yet never threatening to join the bottom two. It's worth noting the Silverado is less than 34 points from third place and more than 90 points better than fifth position. Due to a few option differences with the GMC, the Chevy weighed 60 pounds heavier than its cousin, which generally hurt it most in performance and fuel economy (at least when empty). With our judges, the new Silverado was usually a top-three finisher, garnering plenty of comments about creature comforts and stellar ride quality; unfortunately, the GMC interior resonated with our judges just a touch louder. Finishing in fourth place after all the quantitative testing and calculations, and a strong third place in the qualitative portion, the 2014 Chevy Silverado just couldn't keep up with the better-looking and ever-so-slightly better-performing Sierra.
Third Place
2014 GMC Sierra 1500 SLE Z71 | 1,749.25 points
If there was a surprise in this competition, it was that the all-new GMC Sierra 1500 won two of our 13 quantitative contests outright, and came in second in four others, all done without a maximum trailer package or the all-new 6.2-liter V-8 (both arriving later this year). Impressively, that put the GMC within striking distance of the Ford (only 55 points behind out of 1,300) after the quantitative section of the test. Unfortunately, the GMC made up less than 40 points in the judge's scoring, winning the exterior styling portion outright but finishing in second place to the Ram 1500 in both interior and overall value. Our judges were clearly impressed with the new material choices and gauge cluster layout inside the GMC but they weren't impressed enough to take away points from Ram or Chevy, both of which also scored well. As strong as the push was for the Sierra near the end (it was like we were watching a long-distance runner finish a marathon with back-to-back five-minute miles), it wasn't enough to overtake the hard-performing Hemi in the Ram 1500 or the monster-strong F-150.
Second Place
2013 Ram 1500 SLT Big Horn | 1,753.5 points
Watching the top two in a comparison test like this is more like witnessing King Kong wrestle a giant anaconda or a T-rex; you know you shouldn't be standing around watching the bloody battle, but it's just too dang mesmerizing to look away. Together, the Ford and Ram pickups won more than three-quarters of all the test events. In fact, the new Ram 1500 won five separate events (both autocross tests, both hill-climb events and the empty zero-to-60 run), as well as coming in a close second in three categories. Additionally, the new Ram was a strong player with our judges, winning both the interior and overall value categories, and finishing second in the exterior section behind the stylish GMC. If the Ram 1500 had one obvious weakness, it was in our calculated payload and towing capacity events. In those two categories, the Ram gave up the most points of any other competitor in any event, and with that huge distance to make up, it couldn't close the gap enough on the Ford no matter how well it performed in the other events. In the end, this truck missed the tape by a nose.
First Place
2013 Ford F-150 XLT | 1,765 points
Say what you will about the F-150, but as the biggest-selling half-ton in the U.S. offering the most engine choices and trim packages in the class, you had to think this was the favorite from Day One. Although the F-150 hasn't won a PUTC comparison test since the 2010 V-6 Work Truck Shootout, we should note we're not counting last year's Ultimate 4×4 Shootout because the Ford Raptor is in a class by itself. The performance in this well-equipped XLT SuperCrew with its Max Tow Package was, quite simply, dominating. In the quantitative section of our test, with 13 different performance tests and max rating calculations, the Ford outdistanced the competition by a significant margin. It won five competitive events outright and came in second in six others. However, in the qualitative section of our testing, the Ford's domination fell short. In fact, even though the F-150 did not garner any harsh criticisms, the XLT interior was clearly not up to the levels seen in the new GM trucks and Ram 1500. After the judges' scores were sorted, the Ford never received higher than a third-place finish in this section, winding up in fourth place overall in our qualitative portion of the test. But this contest wasn't only about what a few experts think, so now that all the dust has settled on one of our most thorough and exhaustive half-ton pickup truck comparison tests, the 2013 Ford F-150 is PickupTrucks.com's 2013 Light-Duty Challenge Champion by 11.5 points more than the Ram and 15.75 points more than the GMC. Congrats to Ford and to all of our competitors, because this was one crazy, brutal battle royale.
Related posts