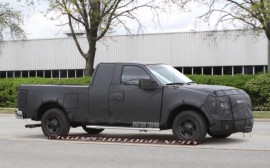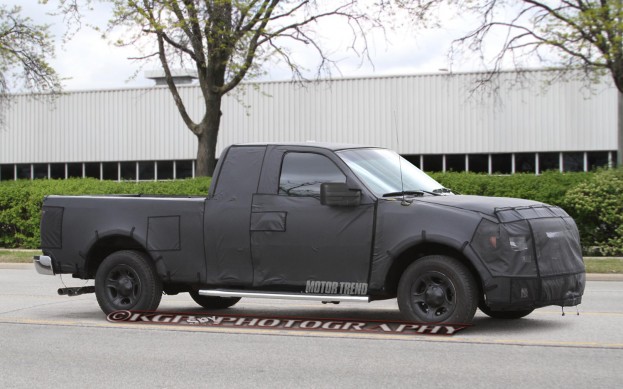 The 2015 Ford F-150 pickup truck will sport serious changes when it debuts, possibly as much as 700 pounds lighter than the current model. While the current F-150 maintains its role as Ford's biggest cash cow, engineers are already out testing prototypes.
A few test F-150s are hidden underneath the current model's sheetmetal, albeit with a few strange features. For starters, the front grille appears to be mounted an inch or two ahead of its usual spot. Tape on the rear of the cab and side of the bed seem to be covering up wires from test equipment. Also caught on the street is a fully camouflaged prototype (shown above), which will sport new styling elements to help distinguish it from the redone Chevrolet Silverado and Ram 1500.
As we previously reported, Ford will likely make heavy use of aluminum body parts to save weight and fuel in order to meet the upcoming CAFE requirements. Expect an aluminum-based bed and cab, though the use of other lighter materials to replace traditionally heavy parts is also a possibility.
Perhaps to take back the full-size truck efficiency crown from the 2013 Ram 1500, the next F-150 may get its first ever hybrid powertrain, thanks to an ongoing collaboration between Ford and Toyota. While a hybrid is still up in the air, the EcoBoost V-6 won't be going away anytime soon. With the EcoBoost V-6 engine selling well, a revised version should appear on the new truck, though it's been said Ford may also offer downsized V-6 engines with direct injection and dual-stage turbocharging technology. The 2013 Ford F-150 is offered with a 5.0- and 6.2-liter V-8, but we wouldn't be surprised if one of those engines gets the axe due to the V-6's popularity.
What do you want to see from the next-generation Ford F-150?
The 2015 Ford F-150 prototypes are shown below along with the 2013 Ford F-150.
Related posts