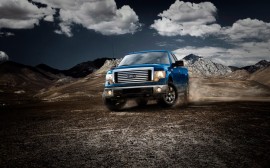 The Messages from TV news, newspapers, and web feeds are about as mixed as you can imagine. Fuel prices look to hit record highs in the coming months while construction starts are finally beginning to move in the right direction. Ad to that four solid months of strong automotive sales growth and there could be a few reasons to be optimistic about the economy. Still, less expensive, small car sales are leading the way, as some are reporting overall truck sales are likely to decreased month-over-month for the segment, just as they did last month.
Ford sales analyst Erich Merkle said pickup trucks are expected to account for about 10.5 percent of U.S. auto sales in February; down from 11.0 percent in January and 13.5 percent in December 2011. If February sales were to be annualized, the total number of vehicle sales by year-end would likely reach 14 million units.
We've provided the Top 15 here this month. Take note of the two vehicles (*) that are no longer in production but are still being sold (Ford Ranger and Dodge Dakota).
Rank
YTD Sales
YTD vs. 2011
Year-Over-Year
Monthly Sales
Feb. Percent
1
Ford F-Series
+16.9%
February 2012
47,273
+25.9
85,766
February 2011
37,549
2
Chevrolet Silverado
-1.3%
February 2012
32,297
+1.8
59,147
February 2011
31,728
3
Ram Trucks
+31.3%
February 2012
22,595
+21.2
40,504
February 2011
18,644
4
GMC Sierra
-6.7%
February 2012
11,306
-3.3
20,823
February 2011
11,696
5
Toyota Tacoma
+30.2%
February 2012
10,662
+35.3
19,560
February 2011
7,879
6
Toyota Tundra
-9.6%
February 2012
6,328
-9.7
11,840
February 2011
7,012
7
Ford Ranger *
+43.7%
February 2012
4,482
+18.6
9,525
February 2011
3,780
8
Nissan Frontier
+26.8
February 2012
4,237
+20.1
8,019
February 2011
3,527
9
Chevrolet Colorado
+33.1%
February 2012
3,532
+35.5
6,404
February 2011
2,606
10
Chevrolet Avalanche
+21.3
February 2012
1,794
+26.9
3,411
February 2011
1,414
11
Nissan Titan
-0.6%
February 2012
1,576
+7.4
2,882
February 2011
1,467
12
Honda Ridgeline
+48.3
February 2012
1,370
+50.9
2,615
February 2011
908
13
GMC Canyon
+45.5%
February 2012
1,064
+39.1
2,123
February 2011
765
14
Dodge Dakota *
-88.1%
February 2012
139
-91.6
294
February 2011
1,650
15
Suzuki Equator
-5.8%
February 2012
151
+18.9
259
February 2011
127
Related posts