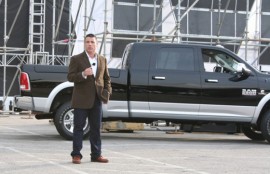 In a move that took many in the industry by surprise, Ram Truck and Chrysler of Mexico President and CEO Fred Diaz has accepted the newly created role of divisional vice president, Nissan Sales and Marketing for Nissan North America, effective immediately.
Many will remember that Diaz moved into his leadership role at Ram Truck when the brand first changed it's name from Dodge to Ram in 2009. He was later given the title president and CEO when Fiat/Chrysler CEO Sergio Marchionne broke the company into several brand-specific entities (Chrysler, Fiat, Dodge, Jeep, Ram and Mopar), each with separate leaders responsible for product, sales and marketing.
During his 24-year career at Chrysler, Diaz had a series of sales roles, beginning as a trainee and zone manager in Texas, then later promoted to head of national sales and finally becoming head of the newly formed Ram Truck brand. During his leadership he oversaw the refresh of the current Ram heavy-duty trucks, the complete overhaul of the 2013 Ram 1500 and the development and introduction of the Ram Commercial group, which included the debuts of the Ram ProMaster and soon-to-be-released ProMaster City.
Although Diaz will be in charge of all Nissan products (cars, crossovers, SUVs and trucks), his expertise in the pickup truck market will be especially important to Nissan as it struggles with the challenges of reinventing its next-generation half-ton pickup truck that has lagged in sales behind the entire segment.
Astute truck enthusiasts will remember that Chrysler and Nissan were in the midst of a shared-platform half-ton collaboration several years ago (we reported on it as far back as 2008) just as the bottom was falling out of the U.S. economy, leaving Chrysler exposed and in need of huge financial support from the U.S. government. One of the first project cuts made during the restructuring was the Chrysler/Nissan new pickup truck alliance. Eventually, after the Italian-owned Fiat Group bought Chrysler, Diaz fought to get the new Ram 1500 program back on track.
Whether or not Diaz will be able to ignite truck engineers at Nissan to breathe new life into the next Titan and Frontier remains to be seen, but it's worth noting he will also have the entire car lineup to keep him busy as well.
We suspect, since this announcement came down with very little warning or notice, this offer was made from the highest levels at Nissan, likely coming from Carlos Ghosn, CEO of Renault and Nissan, himself.
The pairing of the two heavyweights should be interesting to watch but could have interesting long-term implications for the types of technology we'll see in pickups in the next five to 10 years. Ghosn has never been shy about his passion and support for battery-powered eco-vehicles like the Leaf, and Diaz has never been shy about his love for high-profit high-luxury truck packages like the Long Horn and Laramie Limited. From our point of view, if he can repeat just a small part of the 2013 Ram 1500 success in the next Titan pickup that would be a huge success for Nissan truck customers.
Another area that could see great improvement is Nissan's growing commercial truck segment, with the new full-size and compact NV work vans.
Additionally, Diaz had made some big inroads into the Spanish-speaking truck markets of the Southwest and in Mexico. Those credentials could also be a huge help to Nissan sales and marketing here in the U.S. as well as in Central and South America.
No doubt there will be more information in the coming days, weeks and months about how this kind of new leadership (and it may not end here) will affect Nissan's morale and future products. All we know now is that a big name has made a big jump and this definitely changes the game in the full-size pickup segment.
For the full Nissan press release, click here.
Story From pickuptrucks.com
Related posts