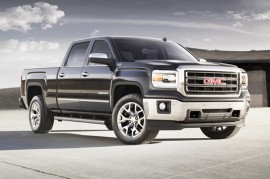 Posted by Mark Williams | April 3, 2013
Fresh on the heels of revealing more performance and fuel economy numbers on the heart-of-the-market 2014 5.3-liter V-8 Chevrolet Silverado and GMC Sierra, Jeff Luke, executive chief engineer for Silverado and Sierra, answered a few questions about the new details.
The call-in conference shed more light on the just-released information about the new trucks and offered some interesting additional facts. Here are some of the high points.
GM did follow the J2807 towing standards in regard to performance and procedures but will not fully comply until the industry (meaning competitors) decides to follow the same guidelines. As stated earlier, GM does not want to put its customers in a situation where they need to figure out how to compare GM's apples to the competition's oranges. When all manufacturers use the same standard, so will GM. Unfortunately, Ford and Ram Truck could say the same thing.
The two biggest issues on a truck buyer's mind are power and fuel economy, noted the marketing gurus at Chevy and GMC. Those issues keep bubbling to surface with their customers. What that means, Luke said, is that GM will keep looking at all possible ways to continuously improve the two trucks, meaning options such as eight-speed transmissions, twin-turbo V-6 options and light-duty diesels. Luke said we should "stay tuned."
The new trucks have been scrutinized and shaved in every way, but comparing the weight of a 2013 Silverado with the weight of a 2014 Silverado would be difficult because the 2014 truck has so many more standard safety and performance features. Our guess is that for every ounce gained, the team had to show an equal amount of weight savings. All Luke would tell us is that, according to GM calculations, a comparably equipped Ford F-150 would weigh 200 pounds more than a new Silverado.
Right now, almost 90 percent of all Silverados and Sierras sold are either extended or crew cabs, with the vast majority being the latter. That leaves regular cab models hovering between 10 and 12 percent. GMC, as you might expect, trends a little higher with its crew cabs, mostly because its buyers tend to purchase the more well-appointed trucks with more expensive option packages. GMC marketing representatives believe the new Sierra will go even further in that direction.
The maximum towing capacity for the Silverado and Sierra is 11,500 pounds, but that will be only with trucks outfitted with the max-trailering package (special note: the gross combined weight rating is said to be 17,500 pounds). The highest tow ratings without the max-tow package for regular cabs is 10,200 pounds; for crew cabs it's 9,700 pounds. And all max-tow package-equipped trucks will be running 3.73:1 ring and pinion gears; 4.10:1 gears will not be offered for 2014.
The two-year free maintenance program for both Chevrolet Silverado and GMC Sierra will carry over from the 2013 models to 2014, but no information was disclosed about the program continuing beyond the end of the year.
For those off-road package enthusiasts, we were told the Silverado Z71 option package will be "beefed up" beyond the usual stickers and shocks packages we've seen in the past. Chevrolet seems to understand this is a strong and recognizable brand, and it will get significant improvements in the future. Likewise, GMC sees the Denali and All Terrain nameplates getting stronger, perhaps getting some significant support with even more engineering distinction.
Story From pickuptrucks.com
Related posts