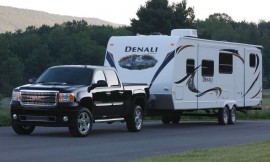 The turbodiesel in the 2011 GMC Sierra 2500HD Denali is rated at 397 hp.
EXECUTIVE EDITOR ROGER HART: While driving this monster 2011 GMC Sierra 2500HD Denali I kept thinking that this would be an outstanding work truck if you were in a business where you needed the hauling capabilities and brute force that this thing offers. I was thinking about all the farm trucks I drove while growing up, and while we sure could have used this kind of capability, none came close to this GMC. Then I saw the $62,000 price tag and realized this is probably more of a truck for hauling your vintage race-car trailer to the track or maybe your show ponies to the dressage competition.
This is a formidable package with the Duramax and the Allison six-speed transmission. Anyone who doesn't love 765 lb-ft of torque is simply not a red-blooded American. This thing flat-out gets up and goes. Passing a line of cars on a two-lane road? No problem. Cruising the freeway at 80 mph? Easy. Once you back off the throttle, the exhaust note at cruising speed is barely audible.
And maybe that is the amazing thing about the Sierra 2500HD Denali. You could easily pull a fifth-wheel trailer, yank a stump out of the ground and then be perfectly suited to head out on the town, all within minutes of each other.
GM continues to produce damn good trucks.
EDITOR WES RAYNAL: Boat? What boat? This baby towed the family's 24-foot bowrider with no muss or fuss–couldn't even tell it was back there, and it's heavy. That's what a 2500HD pickup with a gargantuan 765 lb-ft of torque will do for you.
Over the years, I've made no secret of my love for trucks, and this GMC and the Ford F-250 Super Duty are both terrific big, heavy-duty pickups, as is the Chevrolet Silverado. The view of the road is commanding, the seats are comfortable, and there's a ton of power. On acceleration, you'll hear some diesel clatter, but once up to speed, it goes away. And, by the way, I never caught a whiff of diesel smell from the Duramax. Perhaps needless to say, there was always power to spare.
The long-term Ram 1500 we had here rides better, but wasn't heavy-duty. In fact, overall, I was amazed how well this GMC drove. Rock-solid chassis, awesome brakes and what's this? Decent steering? In a full-size pickup? Wow.
It's a comfortable highway cruiser, too. The seats are good, as is the driving position. I could see those with big boats, trailers or general work needs ponying up for a truck like this, along with a lot of regular folks in need of something a little beyond the typical light-duty pickup. This truck is impressive, and I loved it.
ASSOCIATE EDITOR JAKE LINGEMAN: I had the 2011 GMC Sierra 2500HD Denali for the night for the first round of moving, and it fit my 7.5-foot couch, golf clubs, luggage and an old speaker box without any problems. Of course, those 500 pounds are probably a fifth of what this thing can carry and a 20th of what it can tow.
There are few things more fun that taking a truck built to haul 13,000 pounds and opening it up with the bed empty on the highway–it cooks.
This is right on the edge of being a work truck, I think. It has the small bed, and, as my neighbor noted, you couldn't fit a sheet of drywall lying flat. There's no option for a long bed with the Denali, according to the Web site. The wheels are a bit flashy, but at least the tires have taller sidewalls; you could drive through some rough terrain without damaging them, unlike the 20-inch wheels on the Dodge Ram. It rides sky high, so no problems with clearance, either.
It's so comfortable inside! I just keep thinking of four or five guys jumping in after a day of work covered with grass or dirt or concrete and dirtying the whole place up. I guess if this were a double-duty vehicle, work and recreation, I could understand. Personally, I'd like my work trucks to be cheap and dirty and my weekend ride to be fast and luxurious.
EXECUTIVE EDITOR BOB GRITZINGER: Well all right! Now that's a truck. Expensive, big, a bit bouncy without a load, but if you need the kind of capability at heavy-duty pickup like this affords; you can't go wrong with the GMC Sierra 2500HD Denali. Unlike some HDs, the Denali doesn't skimp on exterior trim touches (love the hood strakes) and interior amenities. It's all fairly straightforward, from power seat and pedal adjustments to the easy GM center-stack interface for navigation and audio.
But that's all trimmings–what this beast is really all about is serious grunt. It takes a careful foot on wet pavement to avoid spooling up what seems like seven-odd-million foot-pounds of torque and breaking the rears loose. After a while, it becomes a joy to get this monster a little sideways, because it always snaps smartly back into place. Steering is steady and tight for a truck. That's the amazing thing to me–the general driveability of this HD chassis. Yeah, there's some jostling and head toss, but out on the highway, it's one steady cruiser. Punch up 75 mph, let the revs settle down into near-sleep mode and let 'er roll. You gotta love that.
2011 GMC Sierra 2500HD Denali
Base Price: $47,795
As-Tested Price: $62,179
Drivetrain: 6.6-liter turbocharged diesel V8; 4WD, six-speed automatic
Output: 397 hp @ 3,000 rpm, 765 lb-ft @ 1,600 rpm
Curb Weight: 7,208 lb
Fuel Economy (EPA/AW): N/A/14.6 mpg
Options: Duramax 6.6-liter V8 turbo diesel ($7,195); touch-screen navigation system with CD player and XM traffic ($2,250); Allison six-speed automatic transmission ($1,200); power sunroof ($895); 20-inch forged polished-aluminum wheels ($850); six-inch tubular chromed assist steps ($689); heated and cooled front seats ($650); rear-vision-camera system ($450); heated steering wheel ($150); diesel engine winter cover ($55)
Related posts