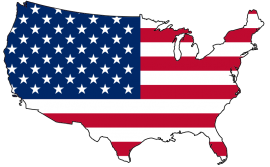 Posted by Mark Williams | March 7, 2012
For seven years, Cars.com has been collecting data from various sources to determine which vehicles are the "most American" — meaning which ones have the highest percentage of its parts content produced in the U.S. and Canada.
Cars.com's American-Made Index rates the top 10 vehicles that are built and bought in the U.S. Each year, as you might imagine, the results are very interesting. For the past several years, the No. 1 vehicle has been the Toyota Camry, which is built in Kentucky and Indiana. Among the criteria for a vehicle to make the AMI is that it must have at least 75 percent domestic parts content.
Cars.com puts it this way in its 2011 AMI report: "In today's global economy, there's no easy way to determine just how American a car is. Many cars built in the U.S., for example, are assembled using parts that come from elsewhere. Some cars assembled in the U.S. from largely American-made parts don't sell well, meaning fewer Americans are employed to build them. Cars.com's American-Made Index recognizes cars that are built here, have a high amount of domestic parts and are bought in large numbers by American consumers."
Detroit's full-size pickups didn't make it into the AMI that year: "The F-150 held a commanding No. 1 spot in the first three years that we've compiled the index, with domestic parts content as high as 90 percent. Alas, today's Michigan- and Missouri-built F-150 bears only 60 percent domestic content rating. Similarly, the Chevrolet Silverado, which held second place for much of the F-150's reign, has just 61 percent domestic content. Chrysler's Ram 1500 pickup's 70 percent domestic content fares better, but it still falls short of the AMI's 75-percent cutoff."
This year, the Toyota Tundra and Ford F-Series will be eligible for the AMI because both have 75 percent domestic parts content, according to current data from the National Highway Traffic Safety Administration. For the F-Series, that's 15 percentage points better than a year ago. The Tundra was the only pickup in the 2011 index, ranking eighth among all cars and trucks. As for the Ridgeline, these are preliminary numbers but they are likely to be close. Domestic parts content for the Ram and Chevy Silverado are relatively unchanged from a year ago, and are well below the cutoff. Keep in mind, though, that the domestic parts content among some models can shift wildly year to year.
Here are the rankings for 2012, according to the most recent NHTSA info. (We should note some models could be missing because their data was not reported or is combined with other models.)
The ratings come from the domestic-parts content labels that appear on window stickers as a result of the American Automobile Labeling Act, which requires that virtually every new car display the percentage, by cost, of its parts that originated in the U.S. and Canada. Where we designated a tie, we listed according to alphabetical order.
Again, we should note, this is not an exact science and there are several factors that go into current AMI scoring, but we'll get the full story when the rankings are published later in July.
Related posts