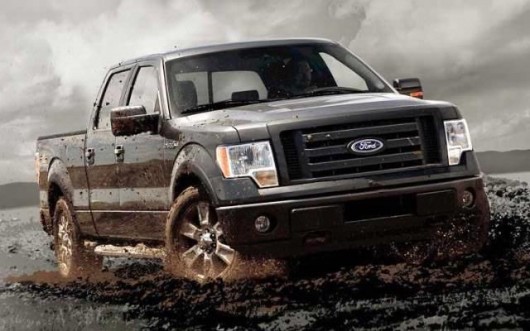 The 2012 Ford F-150 was christened the Truck of Texas at this year's Texas Auto Writers Association (TAWA) Truck Rodeo. For the 12th consecutive year, the Ford truck lineup was named its Truck Line of Texas, including the 2012 Edge crossover, F-150 Platinum EcoBoost®, F-150 SVT Raptor, F-250 King Ranch Super Duty® and Edge Limited crossover.
"Texan consumers put their trust in TAWA's automotive journalists. After lining up vehicles from major auto manufacturers, our members determined Ford simply had the best trucks and crossover," said Mike Herzing, president of TAWA.
Forty-eight vehicles were entered and evaluated by 57 registered TAWA members, so it wasn't exactly an easy win against the competition. Ford swept seven total titles for its trucks, crossovers and EcoBoost engine technology.
"These honors show Ford trucks still reign supreme in Texas, and it's rewarding to see that the truck-savvy Texas Auto Writers appreciate just how innovative our F-Series pickups are," said Mark Fields, Ford President of the Americas. "These awards validate what our customers have been telling us about our Built Ford Tough® F-150 and we are honored by their recognition of the strength of our truck lineup, as well as our crossovers and EcoBoost engines."
With 12 years under its belt as the Truck Line of Texas at TAWA, we wouldn't be surprised to see Ford take home a few more titles next year. After all, it's not the first rodeo for Ford.
2011 TAWA Truck Rodeo Honors:
• Truck of Texas: 2012 Ford F-150
• Truck Line of Texas: Ford Motor Company
• CUV of Texas: 2012 Ford Edge
• Heavy-Duty Pickup Truck: 2012 Ford F-250 King Ranch Super Duty
• Luxury Pickup Truck: 2012 Ford F-150 Platinum EcoBoost
• Full-Size Pickup Truck: 2012 Ford F-150 SVT Raptor
• Midsize CUV: 2012 Ford Edge Limited
• Outstanding Feature: Ford EcoBoost Engine Technology
Related posts